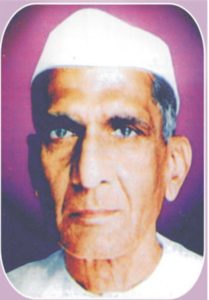 Shri Brijalji Biyani was one of the most illustrious sons of the Vidarbhian Soil. Having been born on 6th Dec. 1896 in a wealthy family with a strong religious and spiritual background, he inherited the virtues like sacrifice, altruism, patriotism through the Legacy. His initial grooming and upbringing took place in AKOLA in the absence of his mother who left for her heavenly abode when he was a just four years old child. As destiny would have it, not withstanding this grave personal loss he emerged a much stronger person in courage and conviction that molded his personality as a selfless and valiant freedom-fighter. Having done his early schowling in AKOLA, he received his college education at Morris College Nagpur, the then one of the most prestigious academic institutions in Vidarbha. He had an ambition to be a practicing Lawyer; which he surely would have been, had he not come under the influence of Mahatma Gandhi, the father of nation. He voluntarily participated in Indian National Freedom Movement led by Mahatmaji. His presence and active participation in the non-co-operation movement in 1920 was remarkable and note-worthy. Besides being a selfless freedom fighter, he was an eloquent orator, creative writer and a top quality journalist with great degree of Intellectual, Professional and Moral Integrity.
As a token of gratefulness and gratitude towards him, some educationally conscious and generous people from Hindi speaking Business community got together and founded Shri Brijlal Biyani Shiksha Samiti, in 1961. Brijlal Biyani Science College is one of the preemies educational institutions run by the Shiksha Samiti.
Family life :- His father seth Nandlalji Biyani was a wealthy and a very generous man. He was popularly known by the name " Nagar seth". At the age of four his mother died. He was brought up by his father in a religious atmosphere.
He was married at a very young age to Savitri Devi. His daughter Sarla Birla had married to Basant Kumar Birla,the son of Indian businessman Ghan Shyam Das Birla in April 1941.
Early Influence :- He actively participated in non-co-operation movement in 1930,1932,1940 and 1942. His inspiring participation in the Dohihanda salt Satyagraha and the struggle against Nizam was phenomenal. He was jailed on four occasions. After the independence, he was called upon to serve as the finance minister of the then Madhya Pradesh State and later represented the AKOLA Constituency as the MLC.